Home
-
Return to Previous Page
MWR HE & Race Filter For MV Agusta F3 ( 2012+)/ Brutale 675 & 800, Rivale, Dragster, Stradale, Turismo Veloce (up to 2017)
MWR HE & Race Filter For MV Agusta F3 ( 2012+)/ Brutale 675 & 800, Rivale, Dragster, Stradale, Turismo Veloce (up to 2017) MC-061-12-HE MC-061-12-R MC-061-12

Not a copy of the standard air filter, always searching for solutions, either it's the performance , protection or fitment . Caution: clean and re-oil at least once a year with MWR air filter oil & cleaner . Remapping the ECU or the Fuel Control Module is recommended
Availability:
Please feel free to call us for ETA if no inventory is listed above.
Description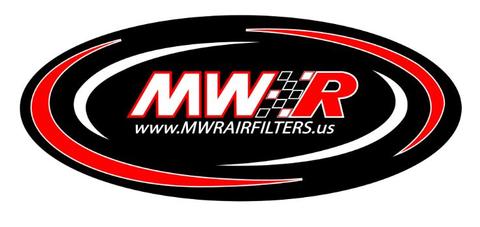 NOTE: for all Euro 4 Brutale models (2018+), please use the MC-066-12 filters


MWR Air Filters are built upon 2 decades of experience in developing and producing high performance air filters for road, race, and off road use.

This experience has been gained working with some of the biggest air filter companies in Europe in areas such as World MX, Dakar (bikes, cars and trucks), Moto GP, WSB, BSB, AMA and even Rallycross. The knowledge gained during this period was invaluable and led MWR to develop their range of performance foam filters.
MWR spent many hours developing the ultimate filter for the MV Agusta F3 and its variants. With the help of top race teams and engine builders. The HE and Race filters replace the standard filter but not in a way you would expect. The filter clamps between the upper and lower halves of the airbox. No modifications to the air box or bike are needed to run these race proven filters.
The HE (High Efficient) air filter (MC-061-12-HE) for road & race bikes
The revolutionary HE Air filter increases power and reduces intake noise. Unlike any other sports filter all inlets will get the same quantity of air, regardless of the speed of the motorcycle or wind directions. This is because of the unique design of the Air Splitter Plate (see illustration to understand how the Air Splitter works) and how it evenly distributes air throughout the airbox. No different fuel-mappings between internal & external or front & rear cylinders are needed. Clean and re-oil once a year.


The Full Race (RACE ONLY) air filter (MC-061-12-R)
Developed on the track, NOT on a dyno but in real life on bikes with Data-loggers being tested and developed in part with TOP Teams for ultimate performance. With new materials and a new design, protection is on the same level as the filters above, only for a shorter period of time before they must be serviced.

It makes the bike stronger and smoother, therefore it saves tires and fuel. Check the air filter every race weekend and always start each race weekend with a well oiled filter. This air filter is not developed to reduce the inlet noise. Due to the design features of this filter we do not recommend it for road use.
The fueling on all three cylinders still needs to be be checked Individually. We recommend MWR's Velocity Stacks for Best Performance!
NOTE: Due to Euro4 Requirements, MWR has developed all new Filters for these bikes, Find them below
Shipping Information
Item Requires Shipping
3.0 lbs.
W10.5000" x H5.5000" x L12.2500"
Customer Reviews
Total Reviews (0)
You must login to post a review.
---