Home
-
Engine Performance
-
Velocity Stacks
MWR Velocity Stacks for the Kawasaki ZX-10R (2016-2018)
MWR Velocity Stacks for the Kawasaki ZX-10R (2016-2018) MWR-VS-400

Not a copy of the standard air filter, always searching for solutions, either it's the performance , protection or fitment . Caution: clean and re-oil at least once a year with MWR air filter oil & cleaner . Remapping the ECU or the Fuel Control Module is recommended
Availability:
Please feel free to call us for ETA if no 'Limited Supply' is listed above.
Description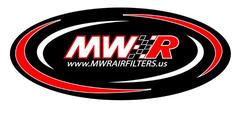 MWR-VS-400 : Velocity Stacks for the Kawasaki ZX10R / ZX10RR 2016 -2018
The set is co-developed by MWR, KRT & KHI , they tested four different configurations and the best option concerning both road & race use has become the current set MWR-VS-400 , looking at the best performance , most mid-range power / torque and the overall smoothness of the curve.
The tests were done on the bikes of KRT (WSBK) and Team Green ( Superbike Factory Team Japanese Championship) and of course they will not show us the powercurve but KHI told me the MWR Velocity Stacks work and they for sure wouldn't use them (while winning WSBK title after title with MWR) if they didn't!
Of course pretty soon we will powercurves / dyno charts to show from independent teams, shops, and riders for us to share, but for now you'll just have to trust us :)
Installation is very easy , remove the original stacks and you can install the MWR stacks , you need the original mounting sleeves for installation
These stacks do NOT fit on the 2019 model , the throttle bodies are the same but the original installation sleeves are changed , they are 1 mm smaller in diameter
Therefore for the 2019+ models the MWR velocity stacks are available under the part.nr.: MWR-VS-410

Details
MWR-VS-400

MWR-VS-400
Please feel free to call us for ETA if no 'Limited Supply' is listed above.
New
Categories
Shipping Information
Item Requires Shipping
3.0 lbs.
W10.5000" x H5.5000" x L12.2500"
Customer Reviews
Total Reviews (0)
You must login to post a review.
---